Had a business meeting in the big city today so
took the opportunity to stop by Archiver's on
the way home and do a bit of shopping...
Finally got some Distress Markers and the Paper Stash
collection Lost and Found to use for the March 12 Tags butterfly.
I can't seem to stop playing with the Distress Stains
and stained up some more Prima flowers, some
doilies and more ribbon, I really am liking the
Distress Stains! Went to my business meeting today
with some pretty funny looking inky fingers! I always start
out with a baggie but somehow it always ends up not on
my fingers...oh well...part of the experience...gotta love it!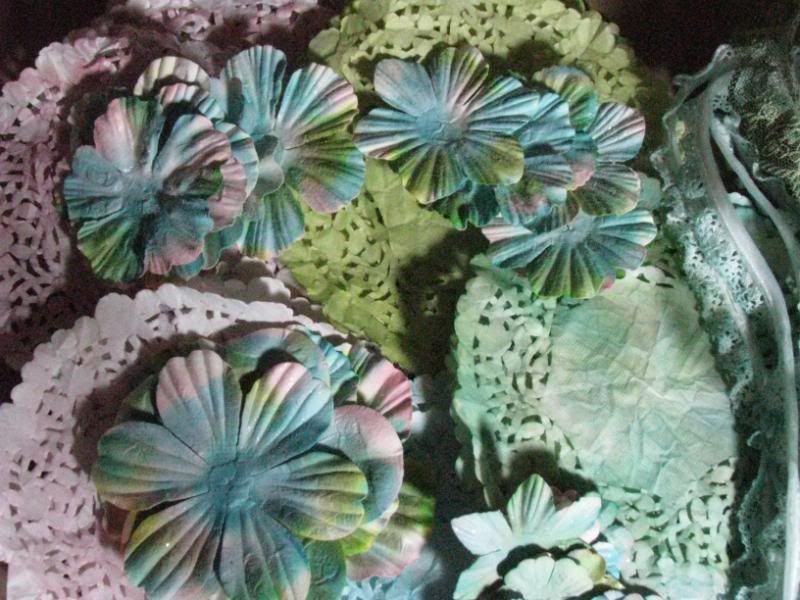 Once I get the flowers stained up the way I like I am
also adding some Rock Candy Stickles for added
sparkle and charm...the best part of this is how
perfectly it all matches the paper collection from
Graphic 45, Once Upon a Springtime!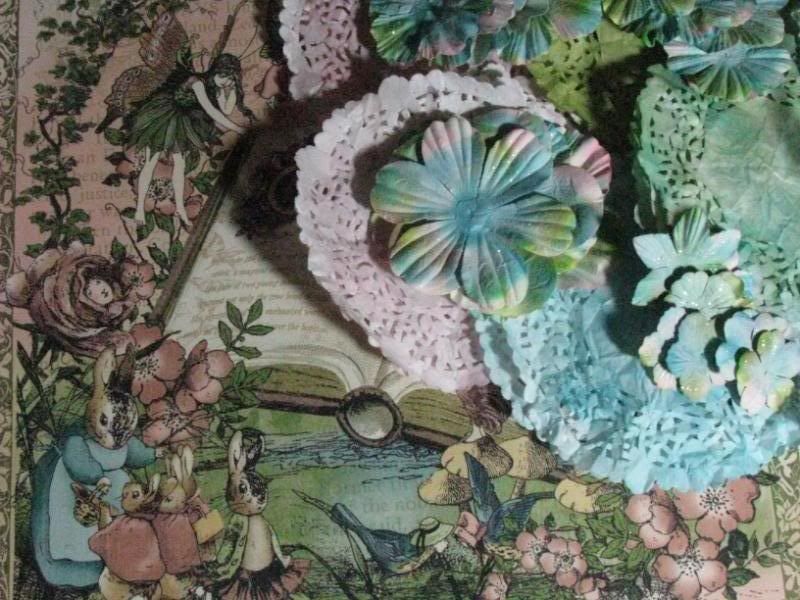 I can't wait to work on a layout with all of these
embellishments I have created with the Distress
Stains. It is so cool to be able to make your own
embellishments in what ever color you like
from the Tim Holtz collection of inks! I have been
really stuck on this color combo which is
Broken China, Spun Sugar and Peeled Paint
Lovin' It!!!
You can take any beige, ivory or white lace (even
polyester) put some Distress Stain down on your
Craft mat and just mix them up and spritz with water
until you achive the color you want. I have an old
bulletin board I have been using to pin up the wet
items for drying but you can also use your heat tool
to speed up the process if you like.
Remember to leave a comment on my blog to win
a set of 3 embellishment jars. I will be doing the
drawing on March 14th and two lucky people will
be chosen as winners. I will also be including some
embellishments (May be different than shown)
so it is a great giveaway...just comment
here on the blog for your chance to win and
Good Luck!
Please share with your friends!